Here are some books that I recommend. I have read them all, and they have all influenced how I think and act as an entrepreneur. It is far from a complete list of good business books, but it's a great start.

These are affiliate links. If you are concerned with this, it may be a good time to review my Disclosures Page.
If you hover over an image, you will see the Title and Author.
If you only read one book about starting a business, please read this one.  Seriously.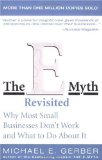 The E-Myth Revisited: Why Most Small Businesses Don't Work and What to Do About It, by Michael E. Gerber
Books About Getting Started and Transitioning from Employee to Entrepreneur
Books About Productivity and Getting Things Done

More Great Business and Marketing Books