Spring has definitely sprung here. The leaves on the trees are starting to pop out, lawns are green, flowers are blooming, and I finally got to take the snow tires off the car!
I had to give our lawn it's first mow of season yesterday. Most people seem to mow their lawn in straight lines. When you do this, it leaves a pattern of those neat, straight rows. Not me. When I realized that when you mow it leaves lines, I started to mow my lawn in a curved pattern, like this: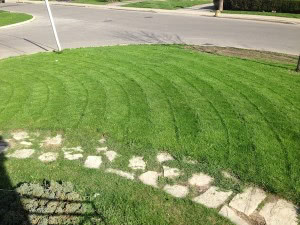 I do this just to be different. No other reason. Do you know how much extra work this is? Zero. It does take a little more thought, but it takes no more work than it would to do it like everyone else. It also makes it a little more interesting to me.
Think about this with your business. How many things are you doing just like everyone else? From the way you answer the phone, your email signature, and your receipts to the way you make your offering or your pitch, what are you doing to stand out?
Are you just like everyone else, or are you different? I like different. People remember different. It usually doesn't take any more work to be different, or any more money. It usually just takes a little thought.
A quick thought for you, as you enter this week.
I'm very happy to have heard from so many of you that are interested in participating in a online group. I'll be putting that together this week, so look for an email in a few days for where to sign up.
Have a successful week!
https://startupdaddy.com/wp-content/post_images/sdweblogo.png
0
0
Ian Gordon
https://startupdaddy.com/wp-content/post_images/sdweblogo.png
Ian Gordon
2013-05-05 10:24:20
2013-05-05 10:24:20
Are You the Same