Review of UnMarketing, by Scott Stratten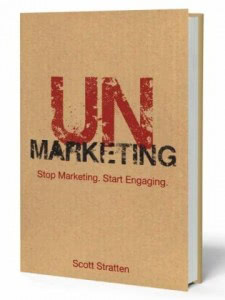 I don't do a lot of reviews here, but since the interview I did with Scott Stratten was one of the most listened to and commented on episodes of Startup Daddy, I figure I owed it to him and you to check out the book once it came out.
I pre-ordered the book because I like the way Scott approaches marketing and social media, and also because I've met Scott and he's a good guy and I wanted to support him with his first book. So yes, I wasn't entirely un-biased. If the book sucked, I wouldn't write a bad review, I just would not have said anything (Mom always said, If you don't have anything nice to say, don't say anything).
Luckily, I liked reading it and I'll tell you why you should read it too. If you read Scott's blog, or seen him speak, you know he's funny. He approaches things with humor and doesn't take himself too seriously. One look at the back cover and you know he approached his book with this same attitude.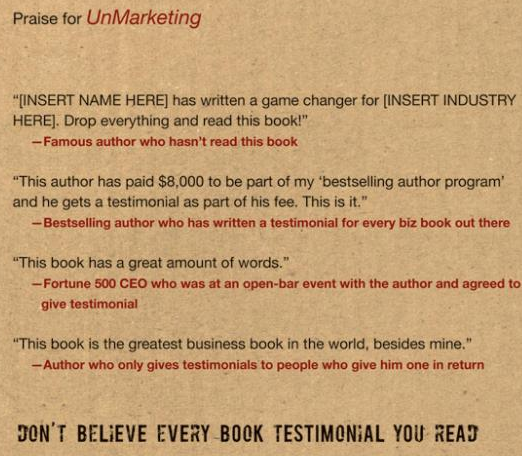 When you read it, make sure to read the footnotes on each page- but not in like a hospital waiting room, or court, or anywhere else you'd be embarrassed to laugh out loud. Because you will.
So Scott is a self proclaimed Big Deal on Twitter, so it's no surprise that a lot of the book is about how business have used Twitter to interact with customers and market their wares. It is more than a book about Twitter though. It's about the way he thinks marketing should be done in today's world. As he says, if you believe people do business with companies they know, like and trust, then you should make getting to now people your business.
I like that Scott uses specific examples to make his points and includes screen shots that make things easier t understand and probably so you know he's not making things up which is refreshing for a marketing book.
So the criteria I use to determine if I like a business book is pretty simple.
Did I enjoy reading it? If I can't get passed the first few pages of your dry, power point presentation turned text book, I'm out.
Did I learn something new or was this just a new articulation of stuff I already know?
The answer to both for me was yes when I read UnMarketing. It was an easy, quick read that kept me smiling and even laughing out loud as I read it. It is made up of a lot of short quick chapters and he makes his points quickly (probably a skill he learned on Twitter).
He uses specific case studies to make his points and provides actionable advise that makes sense for small business owners. I use that term actionable a lot because it's important. Often we read things that make a lot of sense but we don't know what to do with it. This book is not so much a how to, but it is filled with a lot of great nuggets of truth that will help you to use social media to market your business.
Here's a link to buy Unmarketing (affiliate link)
You can connect with Scott on his blog, UnMarketing, or on Twitter as @unmarketing.
If you've read it, let me know what you thought in the comments. If not, read it, THEN let me know what you think in the comments.
https://startupdaddy.com/wp-content/post_images/unmarketing.jpg
480
360
Ian Gordon
https://startupdaddy.com/wp-content/post_images/sdweblogo.png
Ian Gordon
2010-10-14 10:34:58
2023-03-22 17:04:38
Review of UnMarketing, by Scott Stratten